What Working in Turkey During Ramadan Was Like
[ad_1]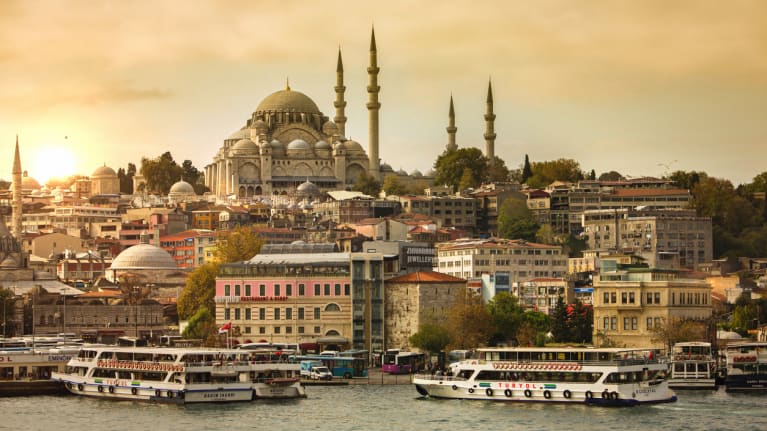 ​Muslims in Turkey who observed Ramadan this year kept working despite the strain of fasting during the day, waiting to eat after sunset and waking early in the morning, before sunrise, to eat again.
Zubeyir Tercan, an employee at Tonguc in Istanbul who also runs his own business, said, "I can lose focus" while fasting. But he isn't complaining, describing the religious duties during Ramadan as so fulfilling that they seem like "a luxury for me most of the time."  
Tercan wears two professional hats. As an employee, he consults for new companies looking to develop their software. As an employer, he hires and oversees a network of software developers working on his other projects.
During the monthlong Ramadan fast, which lasted from May 6 to June 3, Tercan was observant. But he did not stop working. As someone who is required to both produce and oversee work, he was aware that he couldn't let long work days without food affect his productivity too much.
Secular Republic
Over the course of Ramadan in Turkey, work life continued as normal for the most part. Though the country is nearly 97 percent Muslim, Turkey is officially a secular republic. After the country was founded in 1923 following the collapse of the Ottoman Empire in World War I and the subsequent War for Independence, Mustafa Kemal Ataturk pushed for the constitution to recognize the secular state of the new Turkey.
The secularization of Turkey affected all aspects of day-to-day life. The weekly day off work was changed from the Islamic Friday to the secular Sunday, "Islamic" words rooted in Arabic or Persian were replaced, and headscarves were banned in public universities and offices, a rule that has since been reversed. Throughout Turkey's history, there has been a constant push and pull between secular and religious societal influences, but, officially, the country remains a secular republic.
Attitudes Toward Fasting
"The people who are fasting are always tolerated. It doesn't have to be a written rule, it doesn't have to be the policy of the company," stated Sedat Kestepe, a computer developer engineer at ETS Tourism.
"In Turkey's culture, everyone will be understanding," Tercan agreed.
This is helpful in companies that employ a mix of observant and nonobservant workers. Tercan found the need to balance expectations of his co-workers and employees during Ramadan and considered that some might have struggled due to the lack of food and irregular sleep schedule.
"The owners of the company are fasting," Tercan said, "but not everyone in the company is fasting."
At one point, he found himself in a meeting with both fasting and nonfasting co-workers.
"Some [colleagues'] sugar levels dropped drastically, and they were really having a difficult time focusing, and [at the same time] some are drinking their coffee," he said. With only 12 people in his IT department, it was easier to adjust the pace of meetings than it would be at a larger gathering.
But, he added, "if you're working with a remote company or a client who is not fasting, they are probably going to go hard on you because they don't care if you are fasting or not."
Laws in the Middle East
Though Turkey does not have laws to lighten the workday during Ramadan due to its secular identity, many other countries in the Middle East do.
In the United Arab Emirates, a law was passed in 1980 that requires work hours to be reduced during Ramadan, even for nonfasting workers. The workweek can't exceed 36 hours, or six hours per day, during Ramadan. But this law specifically excludes employees with senior positions, who oversee other workers. There are similar laws in Qatar and Bahrain.
In Saudi Arabia, there is a comparable reduction in working hours, but exclusively for Muslim employees, while in Kuwait there is no exception for Muslim senior-level employees. Oman reduces the hours even further, requiring that employees work no more than 30 hours per week during Ramadan.
[SHRM members-only toolkit: Introduction to the Global Human Resources Discipline]
Transition to Secular Work Culture
The transition to Turkey's secular work culture was jarring for Ahmed Shaltoot, a Palestinian from Gaza who is working in Istanbul as a project coordinator at the nongovernmental organization Hayat Yolu Association.
"To be honest, the first time I came to Istanbul, I was shocked," Shaltoot said. "I didn't have the knowledge that the world [here] is a bit different than Gaza, [which] is a very conservative place. I was shocked when I saw people not fasting, and restaurants open during the day."
But after many years in Turkey, Shaltoot has adapted. His workplace shortened his hours from 8:30 a.m.-6 p.m. to 9 a.m.-5 p.m., and occasionally offered Muslim employees fast-breaking iftars in the evening. Most of his co-workers, including his boss, also fasted for Ramadan.
"A couple years ago I worked for ICMC [International Catholic Migration Commission]. Most of them were nonfasters," Shaltoot said. "They were supporting us, trying to eat away from us. But I was OK with it. I said they could eat in front of me. I'm used to it."
Katie Nadworny is a freelance writer in Istanbul. 


[ad_2]