Transgender Workers Are Not Protected by Civil Rights Law, DOJ Tells Supreme Court
[ad_1]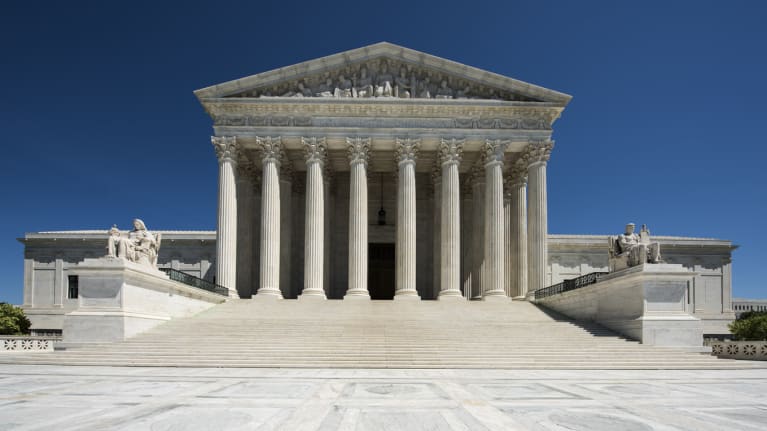 ​Transgender discrimination is not prohibited by Title VII of the Civil Rights Act of 1964, the U.S. Department of Justice (DOJ) told the Supreme Court in an Aug. 16 brief.
The DOJ's stance directly contradicts that of the Equal Employment Opportunity Commission (EEOC), which argued on behalf of a transgender worker, whose case is now before the high court, that Title VII does prohibit transgender discrimination.
The Justice Department filed its brief in response to the high court's announcement that it would review the case.
The DOJ represents the EEOC before the Supreme Court but its brief departs from the EEOC's position that Title VII's sex discrimination protections cover lesbian, gay, bisexual and transgender (LGBT) workers, Bloomberg reports. Former Attorney General Jeff Sessions reversed Obama-era guidance at the DOJ on transgender discrimination but the EEOC's didn't change its view. The Trump DOJ said in a memo that gender identity is not a protected category under Title VII.
We've gathered articles on the case and related topics from SHRM Online and other trusted media outlets.
Funeral Director Fired After Revealing She Is Transgender
A funeral director in Michigan was fired after informing the funeral home owner that the director had decided to start living as a woman rather than a man. The funeral director filed a charge with the EEOC, which sued the employer. The owner testified that he fired the plaintiff for dressing as a woman in the workplace and that he sincerely believed that a person's sex is an immutable God-given gift. By allowing the plaintiff to represent the funeral home while dressing as a woman, the funeral home owner believed he would be violating God's commands.
Justice Department's and Funeral Home's Arguments
The EEOC persuaded the 6th U.S. Circuit Court of Appeals that Title VII's prohibition on sex discrimination included a bar on discriminating based on gender identity, which it asserts are inherently tied to a worker's sex. By contrast, the Department of Justice said in its brief to the Supreme Court the funeral home fired the funeral director for not complying with a sex-specific dress code. The Justice Department argued that a ruling for her "would invalidate all sex-specific policies, from restrooms to dress codes."
Justice Department Asserts Sexual Orientation Not Covered
The Justice Department also has maintained that Title VII does not prohibit discrimination based on sexual orientation, again taking a stance opposite the EEOC's. In a 2017 brief filed in another case now before the Supreme Court, the DOJ acknowledged that its position contradicted the EEOC's but said the EEOC is "not speaking for the United States and its position about the scope of Title VII is entitled to no deference beyond its power to persuade." DOJ briefs repeating this stance are expected later this week.
(SHRM Online) and (HuffPost)
Cases Before the Court
On Oct. 8, the Supreme Court will hear arguments in two consolidated cases—Bostock v. Clayton County, Ga., and Altitude Express Inc. v. Zarda—that address whether Title VII bans sexual orientation discrimination. It also will hear arguments in R.G. & G.R. Harris Funeral Homes Inc. v. EEOC over whether Title VII prohibits discrimination based on gender identity.
Many Companies, States Protect Transgender Individuals
A growing number of companies include transgender status in their diversity efforts and policies. Most Fortune 500 companies now prohibit discrimination based on gender identification. In addition, at least 20 states and many cities have expanded anti-discrimination protections to include transgender individuals.
[SHRM members-only toolkit: Managing Gender Transition in the Workplace]
Multistate Compliance Can Be Challenging
When it comes to employment protections for LGBT workers, dealing with the hodgepodge of state and local laws and conflicting interpretations of federal law can be daunting. To ease confusion and provide clarity, businesses should consider adopting the most inclusive policies.


[ad_2]