Google Clamps Down on 'Disruptive' Employee Workplace Discussions
[ad_1]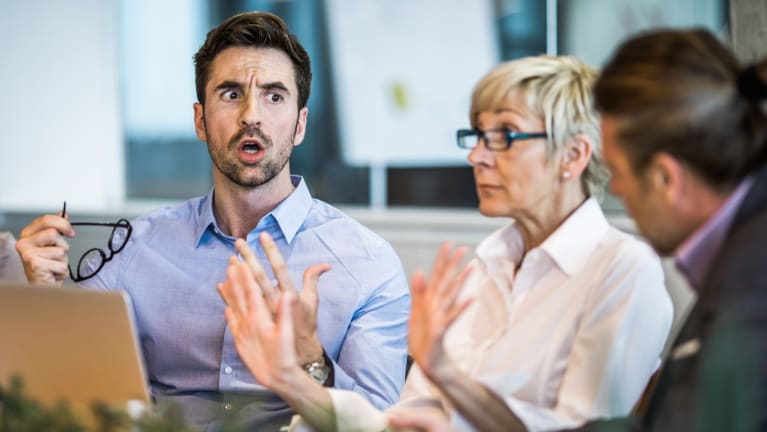 ​New guidelines from Google instruct its employees to avoid workplace conversations that are disruptive and divisive.
"What you say and do matters and can have lasting impact," the company said in memo. "Be respectful in your comments about (and to) your fellow Googlers."
Google exhorted employees not to "troll, name call or engage in ad hominem attacks about anyone" or make insulting or demeaning statements against individuals and groups of people, including business partners and public figures. The company wants to avoid discussions that are "disruptive to the workplace or otherwise violate Google's workplace policies." Managers and people who moderate or oversee Google's internal online chats are expected to intervene if the policy is violated. 
"If necessary, we will remove particular discussion forums, revoke commenting, viewing, or posting privileges, or take disciplinary action."
Last year, the company unveiled guidelines to rein in workplace debate and said it would discipline anyone who discriminated against colleagues or took part in discussions that disrupted the work environment.
Google employees, and other Silicon Valley workers, have been active and vocal in airing grievances against their employer. In November 2018, 20,000 Google workers staged a global walkout to protest a workplace culture they claimed was blind to sexual harassment and discrimination. A former Google engineer accused the company of firing him in 2018 over his conservative political beliefs; the Internet giant has said the termination was over misuse of company equipment.
In January, Facebook issued an internal memo that created rules to curb harassing speech and bullying by employees who were attempting to change their co-workers' minds about political and religious issues. One of its engineers resigned in October 2018, citing an atmosphere he claimed attacked conservative views.
SHRM Online has collected the following articles about this topic from its archives and other sources.  
Google Tries to Corral Its Staff After Ugly Internal Debates 
Stung by recent controversies, Google is trying to rein in its famously freewheeling employees. Google issued new workplace guidelines on Friday that ordered its staff to refrain from insulting one another, from making misleading comments about the company and from "disrupting the workday to have a raging debate over politics or the latest news story." As Google's workforce swelled past 100,000 employees and the nation's politics became even more partisan, Google's culture has become a flash point. Employee walkouts have quashed several projects and political debates on internal message boards have grown so rancorous that they have drawn the ire of President Donald Trump.
What Employee Speech Is Protected in the Workplace? 
Employees don't have a constitutional right to free speech at work, but employers still need to be aware of federal and state laws that do protect workers' speech in certain situations. 
(SHRM Online)   
[SHRM members-only toolkit: Managing and Leveraging Workplace Use of Social Media]   
Viewpoint: It's 2019, Is It OK to Talk Politics at Work? 
It's no secret that our country is more divided than ever before when it comes to politics. Tensions are high on both ends of the spectrum and it's not uncommon to hear of relationships falling apart over political differences. When so many people struggle to talk about politics with their loved ones, is there a world in which we can have these conversations at work? 
(TheEveryGirl)   
How to Handle Political Discussions in the Office 
As our nation is faced with intense political divide and the media streaming negativity, it is only natural that political discussions are showing up at work again. As humans, we desire connections and want to talk about our worldly concerns. Learn why and how to navigate the rocky waters of handling political conversations at work: in project team rooms, water coolers, the break rooms, elevators, bathrooms, and even when simply walking down the hall. 
(Corporate Wellness Magazine)   
Why Political Discussions Should Be Avoided at Work 
Whether we like it or not, politics are part of everyday life. But they don't have to be part of work life. There's already enough stress in the workplace, and political discussion sometimes spirals into unnecessary drama that can divide an office. Here are some things to keep in mind when the discussion at work turns political. 
(WorkItDaily)


[ad_2]