Canada Passes Law for More Accessible Federal Workplaces
[ad_1]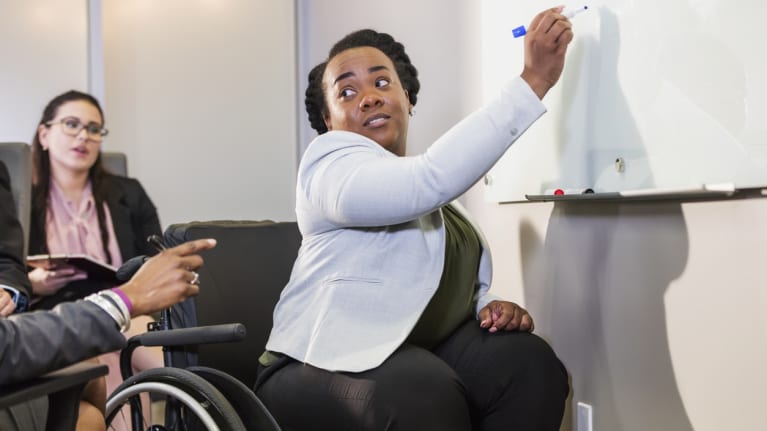 ​People with disabilities have been among the most underrepresented groups in the Canadian workforce. Experts say recent legislation to improve workplace accessibility has the potential to transform the federally regulated workforce.
The Accessible Canada Act, which became law in July 2019, aims to make Canada's federal sector barrier-free by 2040, eliminating structural, physical and technological challenges for, as well as discrimination against, people with disabilities.
While the Accessible Canada Act sets regulations for the federally regulated sector only, it offers a unique framework for employers across Canada to improve accessibility and provide opportunities for inclusion within the workplace.
"As we break down these barriers, society becomes more accessible," said Maureen Haan, president and CEO of the Canadian Council on Rehabilitation and Work in Toronto. "These standards are developed by the community, including employers, policymakers and stakeholders—by all Canadians."
The new legislation requires federally regulated employers to develop and publish accessibility plans. Federally regulated workplaces include airports, aircraft and airlines; banks; interprovincial or international transportation companies; telecommunications companies; offshore drilling operations; radio and television broadcasters; and organizations in the Northwest Territories, Yukon and Nunavut. The Canadian Accessibility Standards Development Organization (CASDO) will develop standards for employers to follow to better accommodate people with disabilities.
"The Accessible Canada Act is the most significant piece of legislation in over 30 years for persons with disabilities in our country," said the office of Carla Qualtrough, minister of Public Services and Procurement and Accessibility. "By proactively identifying, removing and preventing barriers in a number of areas, the government of Canada is ensuring inclusion by design in everything we do. This legislation promotes equality of opportunity and has the potential to change the dial on inclusion."
For instance, the act recognizes American Sign Language, Quebec Sign Language and Indigenous sign languages as primary communication by the deaf in Canada, noted Cathy Browne, co-chair of the Persons with Disabilities Advisory Committee for the city of Vancouver, British Columbia.
Approximately 6.2 million people in Canada reported having a disability as of 2017, according to Statistics Canada. "Around 1 in 5 Canadians will be affected by this legislation," Haan said.
The Canadian Charter of Rights and Freedoms and the Canadian Human Rights Act also protect people with disabilities from discrimination, though more than 30 percent of Canadians report that their disability makes changing jobs or advancing in their careers difficult. Some Canadians said they were also denied workplace accommodation.
Prepare for Improved Accessibility
Federally regulated employers should begin to educate themselves about the act and consider its implications on their hiring practices and how their employees interact with members of the public, Sherifa Hadi asserted in a SpringLaw blog post.
"[The Accessible Canada Act] will have an enormous impact on employers," said Brad McCannell, vice president of accessibility and inclusion at the Rick Hansen Foundation in Vancouver. "While it is expected to take some time to develop CASDO standards, it would be advisable for employers to have their facilities reviewed and understand the level of access they currently provide as a first step in anticipation of new federal and likely provincial requirements."
If workplaces were more accessible, then more than half a million individuals with a physical disability could work more hours per week by 2030, according to the Conference Board of Canada. This would result in more than 300 million hours a year added to the workforce in only a decade.
"Essentially, Canadian employers would be hiring a new workforce," Haan said. "Those with disabilities have a different outlook. This type of diversity will make Canadian businesses grow."
Employers can support the accessibility and inclusion of people with disabilities by promoting open and meaningful conversations about accessibility, as well as encouraging inclusive attitudes and practices, Qualtrough's office said.
Accessibility at the Provincial Level
Three Canadian provinces have already developed legislation that focuses specifically on the rights of people with disabilities, ensuring accessibility in employment, on information and communication technologies, on transportation, and in outdoor environments such as sidewalks, pathways and parks.
Ontario has led the way, as the Accessibility for Ontarians with Disabilities Act (AODA) became law in 2005, and set a target date of 2025 for achieving accessibility.
The Accessibility for Manitobans Act (AMA) became law in Manitoba in December 2013. Alan Bridgeman, first vice chairperson of the Manitoba League of Persons with Disabilities in Winnipeg, Manitoba, said that accessibility laws have not been strictly enforced to date. "There is a push toward being proactive," he added.
Nova Scotia passed the Accessibility Act in 2018, setting a goal to become an accessible province by 2030. "Nova Scotia has 30.4 percent of disabilities in Canada, the highest in the country," said Gerry Post, director of the Accessibility Directorate in Halifax, Nova Scotia. "We are fueled by the numbers."
[SHRM members-only toolkit: Accommodating Employees' Disabilities]
HR Can Champion Accessibility and Inclusion
Experts said human resource professionals should set the example in their organizations. To demonstrate inclusivity, they should arrange the workspace and its tools and technologies to accommodate all employees.
HR departments can implement accessible recruitment and hiring processes and the accommodations necessary for employees with disabilities to succeed in their workplace, Qualtrough's office said.
"Employers can also seek out and promote well-qualified and high-performing individuals with disabilities into leadership roles," her office added.
Catherine Skrzypinski is a freelance writer based in Vancouver, B.C.


[ad_2]